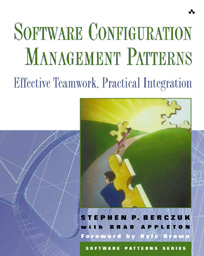 Book Details:
ISBN: 0201741172
Copyright 2003
Published November 2002 by Addison-Wesley
Software Configuration Management Patterns: Effective Teamwork, Practical Integration by Steve Berczuk with Brad Appleton.

This book describes many of the common problems organizations face when using SCM in a way that is not consistent with the needs of their organization. The book presents the patterns organized in a pattern language that shows how the various structures that you need to use for an effective SCM system build on each other.

You can order this book from The AW Professional site, where you can also view sample material, from Amazon.com or ask at your local store. For corporate sales contact the Addison-Wesley Corporate Sales department.